Moscone Center, San Francisco, CA
October 22-25, 2018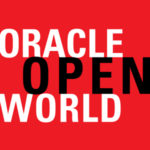 The 2018 Oracle OpenWorld conference takes place from October 22-25 in San Francisco, California. Fishbowl's Oracle WebCenter and Cloud experts will be attending to share our knowledge and learn from other presenters and exhibitors. We look forward to discussing how organizations can utilize on-premise, cloud, or hybrid solutions to manage and distribute high-value content through targeted channels.
At Oracle OpenWorld you will be surrounded by the new, the cutting-edge, and the sometimes unfamiliar. From today's most-trusted products to tomorrow's technologies, you will leave infused with inspiration, new ideas, and relationships. Whether you attend for a day or four, you'll engage in free-flowing ideas that will help you and your business achieve tomorrow's business goals, today!
With a portfolio of keynotes, product demos, collective learning sessions, and so much more, you won't want to miss out on today's premier business and technology event.
For more information about the event, visit Oracle's website.
Exhibit Information | Booth 1911 | Moscone South
Come talk to our WebCenter Content & Portal, Cloud, chatbots, and enterprise search experts. We will have demos available highlighting solutions for each of these technologies. Stop by and register for our event giveaway, pick up some lip balm or fire a rocket. See us in 1911 Moscone South.
Presentation Information
Rise of the Bot Army with Oracle Mobile Cloud Enterprise [BUS3411]
With the release of Oracle Mobile Cloud Enterprise, customers now have the ability to enhance the user experience and provide connected relevant content instantly. Through modern mobile applications that are easier to create and intelligent chatbots that provide a conversational interface, employees can escape the daily drag of navigating through a poor interface to try and find relevant content. Come to this session to hear more about how deploying a connected chatbot army can help your users get to the information they need to do their jobs effectively across applications and business processes.
Speakers: Tim Gruidl, CEO- Chairman, Fishbowl Solutions