Fishbowl Solutions to exhibit and present at Oracle OpenWorld 2017. Team members will demo and discuss solutions for Oracle WebCenter Content and Portal, Content and Experience Cloud, Portal Cloud Service, Mobile Cloud Service, Intelligent Chatbots, Oracle Forms Modernization, and Mindbreeze enterprise search.
Moscone West, San Francisco, CA
October 1-5, 2017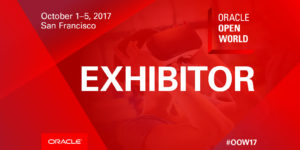 The 2017 Oracle OpenWorld conference takes place from October 1-5 in San Francisco, California. Fishbowl's Oracle WebCenter and Cloud experts will be attending to share our knowledge and learn from other presenters and exhibitors. We look forward to discussing how organizations can utilize on-premise, cloud, or hybrid solutions to manage and distribute high-value content through targeted channels.
Oracle OpenWorld, the industry's most important business and technology conference for the past 20 years, hosts tens of thousands of in-person attendees as well as millions online. Dedicated to helping businesses leverage Cloud for their innovation and growth, the conference delivers deep insight into industry trends and breakthroughs driven by technology. Designed for attendees who want to connect, learn, explore and be inspired, Oracle OpenWorld offers more than 2,500 educational sessions led by more than 2,000 customers and partners sharing their experiences, first hand. With hundreds of demos and hands-on labs, plus exhibitions from more than 400 partners and customers from around the world, Oracle OpenWorld has become a showcase for leading cloud technologies, from Cloud Applications to Cloud Platform and Infrastructure
For more information about the event, visit Oracle's website.
Exhibit Information | Booth 5215 | Moscone West
Come talk to our WebCenter Content & Portal, Cloud, chatbots, and enterprise search experts. We will have demos available highlighting solutions for each of these technologies. Stop by and register for our event giveaway, pick up some lip balm or fire a rocket. See us in 5215 Moscone West.
Presentation Information
Getting Started with Oracle JavaScript Extension Toolkit
Monday, Oct 02, 11:00-11:45 | Moscone West – Room 3001
Over 70 percent of Oracle's public cloud software is written using Oracle JavaScript Extension Toolkit, and it's now open source and free to the world.  In this session learn why Oracle used this modular, open toolkit approach over other prescriptive frameworks.  Understand how you can use it in your own development projects for web and mobile/hybrid applications.
Oracle Forms in the Modern IT Department: A Use Case
Wednesday, Oct 04, 1:00-1:45 | The Exchange @ Moscone South – Collective Learning Room 4
Got Oracle Forms applications? Wondering how they fit into your IT future direction?  Looking to integrate them with other apps?  Are you running into technology limitations that Oracle Forms can't meet?  Learn from the experience of others.  In this use case session partake in an open discussion about Oracle Forms modernization, when to leverage other technologies, and how Oracle Forms fits into the architecture of modern IT departments.
Oracle WebCenter Content: Journey to the Cloud
Wednesday, Oct 04, 2:00-2:45 | Moscone West – Room 3007
With the need to adopt a cloud infrastructure to optimize operating expenditures, it becomes pertinent to move your on-premises applications to Oracle Cloud. Oracle WebCenter Content provides rich industry-leading enterprise content management capabilities. This session outlines the benefits of a lift and shift of Oracle WebCenter Content to Oracle Compute Cloud to take advantage of lowered cost of ownership and ease of maintenance, without losing out on the power of WebCenter Content. Learn how to enabled users to get easy access to cloud-based and on-premise content through WebCenter.
Omnichannel Headless Content: The Final Piece of the Chatbot Puzzle
Wednesday, Oct 04, 2:00-2:45 | Moscone West – Room 3003
Consumer behavior has shifted from social networks to messaging platforms.  Transforming content by making it accessible in the cloud is the first step to digital transformation.  Each and every way you communicate digitally with your customers is a form of conversation and needs to be part of a content strategy.  Chatbots are no exception.  Chatbots remove the need for businesses to build apps for every engagement.  They enable businesses to interact with customers instantly across their existing website and social media channels.  Traditional content management systems push content to apathetic viewers, but chatbots "pull" users to engage.  Oracle Content and Experience Cloud is the dynamic content solutions that chatbots have been waiting for.  Come to this session to lear more.
JavaScript: Does it Make Sense in Large Web and Mobile Apps?
Wednesday, Oct 04, 4:30-5:15 | Moscone West – Room 2012
JavaScript in the enterprise?  Does that even make sense?  After years of developing Java applications in the enterprise, developers have become curious about what JavaScript can do for them.  How can you translate concepts such as "modularity" and "loose coupling" to JavaScript?  Do JavaScript applications have these kind of concepts?  AngularJS is a popular solution in the JavaScript world, and there are many other solutions, too.  In this session, you will be introduced to RequireJS, responsive JavaScript, mobile development with JavaScript, and JavaScript transpilers.  The aim of the session is to give you a thorough understanding of whether JavaScript is a good solution for you in developing enterprise apps.