Software for the
Google Search Appliance
 Important update on the Google Search Appliance.
In February 2016, Google announced that the Google Search Appliance (GSA) would be discontinued. At this time, GSA sales to new customers are no longer available. Fishbowl will continue to offer software, support, and migration services for existing GSA customers through the GSA's end of life in March 2019. As a Google for Work Partner, we are also working closely with Google as they evolve their Google Cloud Search product.
To address on-premise enterprise search needs, Fishbowl has partnered with Mindbreeze to offer the Mindbreeze InSpire Enterprise Search Appliance as a GSA migration path and complete enterprise search solution. Visit our Mindbreeze page to learn more.
GSA Connector for Oracle WebCenter Content
Complete. Robust. WebCenter Content indexing.
Fishbowl's connector indexes metadata and document full-text from Oracle WebCenter. It's highly configurable giving you control over your search experience while harnessing Google relevancy.
Complex WebCenter security? No problem.
Support for a wide range of security configurations lets you maintain WebCenter access controls. Early binding. Late binding. Single sign-on. Pick the options that work for you.
It looks like Google, but in WebCenter.
A beautiful, built-in search interface is included with the connector. Enable user-favorites like Document Previews, Dynamic Navigation, and People Search without leaving WebCenter Content.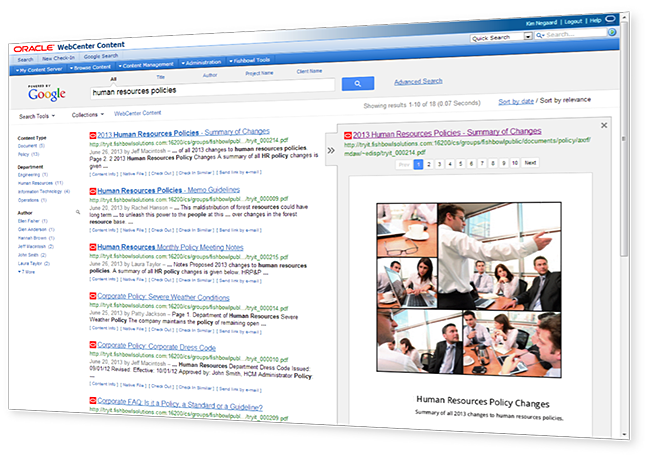 GSA Connector for YouTube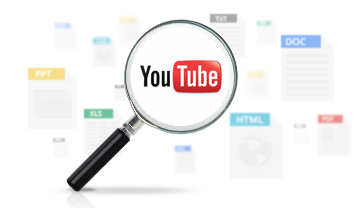 Overcome crawling limitations.
Because YouTube videos have random ID's you can't use the GSA crawler to index your channel. The connector allows you to configure specific YouTube channels to index and keeps other videos out.
Index your videos. And keep them updated.
Product demos, testimonials, and tutorials can now be included in your search results. And the best part? Any new or changed videos are automatically added to the GSA so results stay current.
Enrich and engage with metadata.
Metadata like video titles, thumbnails, and duration are fed into the GSA. This improves relevance and can be added to the search results for a richer user experience.
GSA Connector for PTC Windchill
Complete indexing for PTC Windchill.
Index Windchill content and metadata, including documents, CAD files, WTParts, promotion requests, and change objects from ProjectLink and PartsLink.
Windchill security. We've got you covered.
The connector supports multiple security configurations including early binding authorization for role-based assignment of both users and groups to individual projects and libraries.
Intelligent content feeding. Intuitive content finding.
PDF viewable. Native content. Dynamic HTML. The connector always feeds the most relevant information to GSA so you can easily find content when you need it.


Google search. In your portal.
Integrate GSA results natively into WebCenter or Liferay while maintaining the look and feel of your portal. Give users helpful tools such as spelling suggestions, document previews, and people search.
Standards-based GSA integration.
A collection of JSR-286 portlets provide a search results layout directly within the portal. The configurable portlets let you choose which Google features include on your search pages.
Seamlessly secure.
The GSA Portal Search Suite includes an authentication mechanism to provide single sign-on between the portal and the GSA, creating a seamless secure search experience.
Want to know more?
Send us a note. We'd be happy to answer your questions or give you a demo.